Payment
Top up your credit and make cashless payments
Our cashless payment system enables a smooth internal payment transfer in the canteen or when renting cabinet locks. Users simply load their ID at the terminal and pay conveniently at our mini cash point or the machine with their credit. Loading can be done by means of various cards, SEPA direct debit, cash or by debiting the payroll account.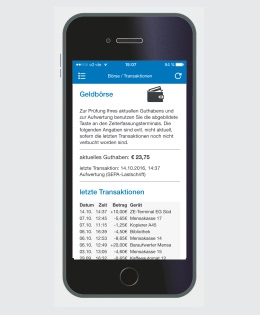 Electronic wallet at the terminal

The electronic wallet makes it possible to top up the user's identification medium or to check on the credit balance at the terminal. Bookings are effected directly on the identification medium by direct debit or from the salary account.
Wallet as app

Users will have an overview of their current credit balance, transactions that have been carried out and the deposited payment me­thod for topping up the identification medi­um at all times via the app for the electronic wallet.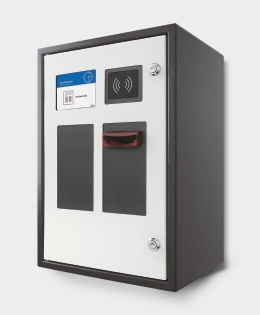 Mini checkout till

The mini checkout till allows you to sell articles using cash, cashless or credit payment processes. Articles can be configured individually using the keyboard layout. If the user does not have a large enough credit balance on his identification medium, the electronic wallet can be topped up direc­tly. All transactions conform to GoBD regulations, cannot be manipulated and are recorded in the terminal.
Payment station

Fees for overdue locker occupation, room reservations, use of parking spaces, library loans and various other applications can be paid conveniently at the self-service pay­ment station. Users hold their card in front of the reader on the payment station. The amount to be paid is shown and can be paid in cash directly using banknotes.